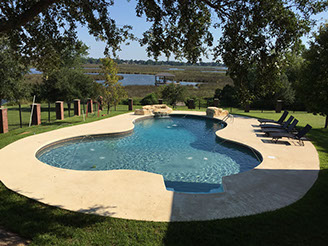 Testimonials
"We Build the Best and Repair the Rest" at Cochran Pools, Inc.
That's not just a motto- IT'S A PROMISE.
We, father and son Van and Vance Cochran of Cochran Pools, Inc., have specialized in the design and construction of custom gunite swimming pools and spas, as well as the installation of in-ground vinyl-lined pools of all shapes and sizes along the MS Gulf Coast since 1977.
From design and construction of new (residential and corporate) projects, to the renovation and/or repair of existing inground pools, Cochran Pools' knowledgeable team is just right for your next investment in the waterscape you've always wanted.
Jeff G.
Tahnya T.
Theresa N.
Kenny S.
"We Build the Best and Repair the Rest!"
DESIGN YOUR DREAM POOL TODAY 228-497-2240
Pascagoula
Moss Point
Pascagoula
Gautier
"Dear Van, My wife and I would like to thank you for our wonderful pool. We enjoy so many hours of relaxation in it. I would like to thank you and your crew for the professional, well-done job. The pool exceeded our expectations."
"Mr. Cochran built two pools for me- in 1999, and again in 2010. We are very satisfied with his work and would recommend Cochran Pools to anyone interested in having a pool installed."
"Mr. Cochran and his outstanding crew built an in-ground pool for my family in 2013. He came highly recommended by my friends and associates who have pools. He did an excellent job, quality work."
"I have known Mr. Van Cochran since 1970. He built a pool for me in 1983 and in 2006 in Gautier, MS. He does excellent work in installation of new pools and in the repair of existing pools."
Why Us?
This is an investment. Only the best will do.
Where do you start?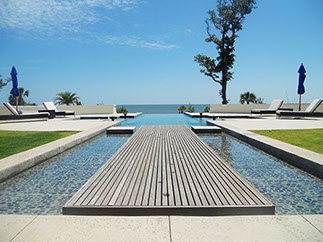 Together, we'll take a walk around your yard to survey the natural features of your land and the space available for building, but most importantly, we will listen to you.
We want you to have the finished product of YOUR dreams within YOUR budget, but we will never cut corners to win your business. It wouldn't be right. After all, the average pool builder is out of business in 4 years or less because they use inadequate, incorrect or flat-out cheap materials. The quality of work suffers, and the homeowner is left with a mess and no one to hold accountable. By choosing Cochran Pools, that's a fear you will never have to face.
During an estimate appointment, Cochran Pools' experts in pool building and design will shake your hand and get to know you.
Cochran Pools has been building the best since 1977.
Whether your pool is 2 or 25 years old
Cochran Pools, Inc., is your best bet for long-lasting service and repair.
Home
Services
Contact
Cochran Pools, Inc.
4351 Gautier Vancleave Rd., C . Gautier, MS 39553 . 228-497-2240
Gallery
Privacy Policy